Pondicherry
Pondicherry
Must do and must see in Pondicherry!
1
Pondicherry Tourism - Tourist place in India
Nov 04, 2017 - youtube.com -

1
2
A sumptuous French breakfast in Pondicherry
Nov 04, 2017 - youtube.com -

2
Will Travel For Food: Aneesha Baig finds out that the best way to kick off her day in Pondicherry is to head to Baker Street for a delicious breakfast.
3
Rocky, Mayur's food adventure in Puducherry
Nov 04, 2017 - youtube.com -

2
Highway On My Plate: The Highwaymen are in Puducherry, where they get to taste abundant vegetarian and non-vegetarian delicacies.
4
Visit to Auroville || Puducherry
Nov 04, 2017 - youtube.com -

0
You cannot go to Pondy and not visit Auroville!!! NEW UPLOAD EVERY FRIDAY. Follow me around India!! Twitter- https://twitter.com/gottadoindia Instagram- http...
Nov 04, 2017 - tripadvisor.in -

0
Top Places to Visit in Pondicherry, India
Nov 04, 2017 - lonelyplanet.in -

0
Top 10 things to do in Pondicherry
Nov 04, 2017 - wikitravel.org -

0
Though very small, Pondicherry was the largest French colony in India. The city has a long and interesting history of trade and war. There is a strong French influence in the city, especially in the old quarters, with Rues and Boulevards lined with Mediterranean style houses and bakeries, although the city remains very much Indian. French is still understood, and the whole city makes for rather pleasant mix of East and West. It is also known as The French Riviera of the East (La Côte d'Azur de l'Est). If you've spent some time in Tamil Nadu and approached Pondicherry by land, you'll very likely experience mild culture shock on discovering French architecture and restaurants serving steak and good wine. Pondicherry is very much a city with a dual personality: crossing from East to West of the central canal reveals two cities with very different characters.
One can cover all main points of Pondicherry on a day-trip (about 8 hours) if you have private vehicle. Two days are more than enough cover all spots leisurely. Anything more if you want to take things very slow and enjoy the city.
Nov 04, 2017 - guesthouses.auroville.org -

0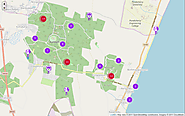 Book beautiful guesthouses at Auroville. Make sure you book well in advance!
Nov 04, 2017 - team-bhp.com -

0
Nov 04, 2017 - sriaurobindoashram.org -

1
Information for visitors coming to the Ashram